(V) vegan
(GF) gluten free
(LF) lactose free
Hot drinks
all our coffee and teas are certified as organic. our coffee is also fairtrade.
we offer milk, oat drink, soy drink or coconut drink.
espresso macchiato
1.5/1.8
caramel couture latte
2.9/3.7
vanilla in vogue latte
2.9/3.7
mocha milano latte
2.9/3.7
peanut butter plunge latte
4.7

Cold drinks
all our juices, shots and smoothies are organic, unpasteurised and produced in the UK.
cold-pressed apple juice
2.5
greens cold-pressed juice
(+)
3.7
cucumber, spinach, apple, lemon, ginger
lemon, water, ginger, agave
ginger, apple, turmeric, lemon
orange, carrot, mango, coconut water, ginger, turmeric
apple, avocado, spinach, lemon, ginger

Sandwiches
toastie with smoked chicken
(+)
2.75/5.5
toastie with avocado
(+)
2.5/5
toastie with halloumi
(+)
2.5/5
asian twist falafel wrap
(+)
6
triangle sandwich with boiled free range eggs, british free-range beechwood smoked chicken, tomato chili salsa, avocado, lime juice, smoked cheese, rocket & kombucha mayo
full list of ingredients sourdough bread (wheat flour, water, salt), boiled free range EGG, beechwood smoked free-range british chicken breast (chicken, salt, sugar), tomato chili salsa (tomato, spring onion, green chili pepper, olive oil, salt), avocado lime (avocado, lime juice), smoked cheese (pasteurised MILK, salt, starter culture, vegetarian rennet), kombucha mayo (sunflower oil, pasteurised EGG yolk, kombucha vinegar, salt, pepper), rocket

allergens: GLUTEN, EGG, MILK

made in a production that handles sesame, peanut and nuts

full list of ingredients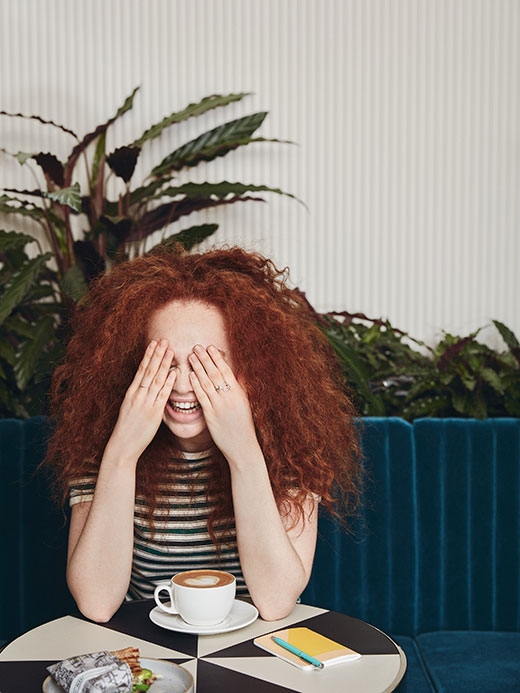 Warm food
pasta with spicy tomato sauce, cherry tomatoes, chili pepper & basil
full list of ingredients pasta (durum wheat semolina), spicy tomato sauce (tomatoes, onion, garlic, extra virgin olive oil, chili pepper, chili flakes, salt, pepper), cherry tomatoes, chili pepper, basil

allergens: GLUTEN

made in a production that handles peanuts, sesame and nuts

full list of ingredients

Snacks & top-ups
Yoghurt with granola & fruit compote
2,75/2,20
Yoghurt with granola & agave
2,75/2,20
Overnight oats with granola & fruit compote
3,50/2,80
seed crispbread with cranberries
1.2
seed crispbread with nori
1.2

Treats
banana cake honey & pecan glaze
2.5
chocolate chip cookie
1.7
pistachio & cranberry biscotti
1.15
- blueberry & cardamom
- cacao
- raspberry & liquorice
- fig & passion fruit
Kids menu
- juice/smoothie
- kids toast
- fruit bites or vegetable sticks
kids juice or smoothie
1.9
Goods
it's pleat filter coffee blend
(+)
6.9
it's pleat espresso blend
(+)
6.9
pack of seed crispbread with cranberries
4.5
pack of seed crispbread with nori
4.5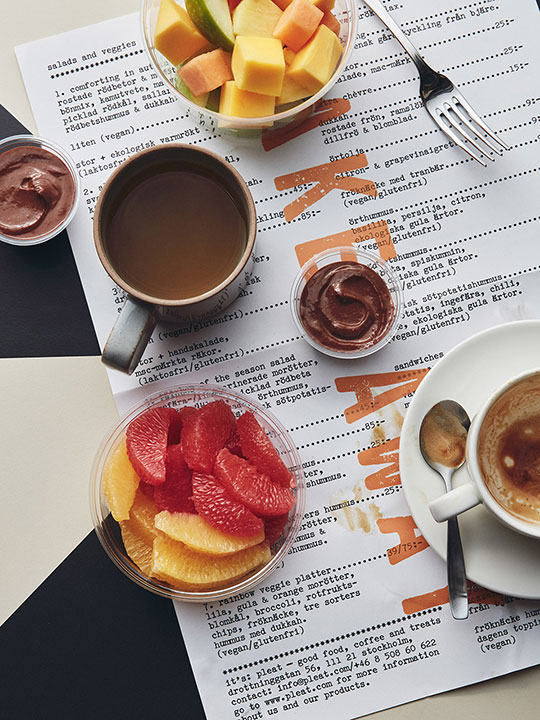 ---
---
london
Westfield White City
phone +44 344 736 9000

opening hours
mon–fri 9am–10pm
sat 9am–10pm
sun 11.30pm–6pm
we are here
read more
---